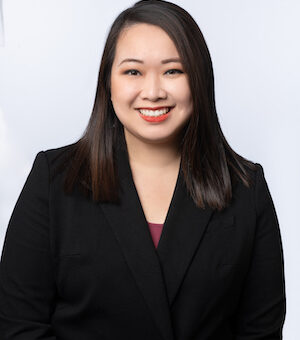 Erica T. Khaine
As an associate attorney with Bonne Bridges, Erica T. Khaine is part of the Medical Malpractice Defense group.  Erica  defends physicians and hospitals in all areas of malpractice litigation and other liability claims.
Expertise
Personal
Education
Expertise
Prior to working for Bonne Bridges, Erica worked at a Workers' Compensation firm in Bellevue, Washington, representing applicants before the Department of Labor and Industries.
While in law school, Erica externed at the Washington State Court of Appeals, where she assisted in authoring opinions under the supervision of Hon. J. Robert Leach. She also volunteered with the Asian Bar of Washington's legal clinic, providing a broad range of legal assistance, and OneAmerica's Citizenship Day Clinic, helping permanent residents in their citizenship journey.
Erica is licensed to practice law in the State of California and the State of Washington.
Personal
In her free time, Erica crochets, sews, and creates custom digital artwork for weddings and family events.
Education
Erica earned her Juris Doctor from Seattle University School of Law and a B.A. from University of California, Irvine in Quantitative Economics with a minor in Asian American Studies.